If you are reading this, you just clicked on a link that stated: "$1000 to form a Nevada LLC".
We know the only reason you clicked on this link is that you were curious to know why this company wants to charge you $1000 to form a Nevada Corporation when there are plenty of other companies offering to file for $62 or $39, or even for as low as $0.
Why would anybody choose to pay $1000 over $0?
And for this question, we offer one very simple answer. If it sounds too good to be true, it probably is.
The truth is, there is not a company out there that can file your Nevada LLC for less than what the State of Nevada is going to charge for the formation. Otherwise, these companies would cease to exist. So, what do those gimmicky prices mean for you as the consumer? It means you will be locked into paying a whole lot more than you intended because of those initial "too good to be true" prices.
With officer listings, business licenses, and filing fees, the average state fee for filing a next-day Nevada corporation is $1000.00. This does not even include Registered Agent fees, and your initial Nevada fees and annual maintenance can be more!  This is because the fees listed above are for Nevada companies that have an authorized share value of only $75,000.  Your initial and annual fee for shares authorized can go as high as $35,000 to start and every year thereafter!
Don't forget to file your tax return in Nevada too, even if you didn't generate a profit last year. That's right! You do have to pay state taxes in Nevada! Click here for more information about Nevada state taxes.
Oh, pssstttt……by the way…we forgot to mention one last thing. They also took away your privacy on state records. All officers' and directors' names and addresses need to be listed on the public record.
We are hoping that by now you are asking yourself "So why would anyone consider incorporating in Nevada if they don't have to?". We know you've heard all of these wonderful things about how great Nevada is to do business in, and at one point, we believe that was true. But with its changes in tax and privacy laws in recent years, that's no longer as true as it used to be, as Nevada ranks #7 in the 2022 State Business Tax Climate Index.
Now ask yourself, if Nevada ranks #7 in the US, who is #1?
Ooh, that's a great question. We are so happy you asked!
We may be a little biased in the matter, but we can answer that question for you too!
Did they just say Wyoming?
We did. It's true. Don't believe us? Click Here
Wyoming has consistently ranked #1 on the State Business Tax Climate Index since 2014, and we're just getting started.
Wyoming also offers low startup costs AND low annual maintenance fees, and that's still not all!
Wyoming also values your privacy! They do not require you to file a member listing as a Nevada company must.
And why does Wyoming have some of the best business laws in the country? Because Wyoming is not interested in a long, drawn-out business relationship that complicates everyone's life. Instead, they make it as easy for you as any state possibly can. As a matter of fact, once you have your LLC, you will stop and think "Wow, that was easy!", because that's how easy it is! Or so we hear at least a couple of times a week, anyway.
Check out the chart below that shows some of the biggest differences between Wyoming and Nevada.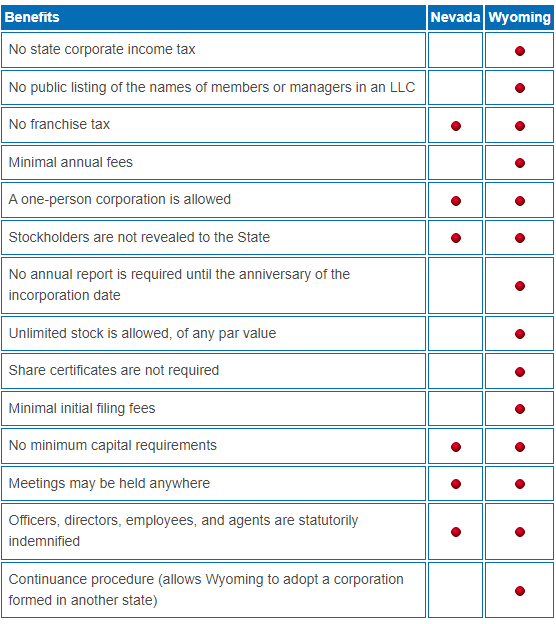 The list is can change without notice.
If you have made it this far and are still reading then you have probably found some value in the things you have read, so now we would like to take a moment to introduce ourselves.
We are the dedicated staff of Wyoming Corporate Services, Inc and we have specialized in Wyoming LLC and C-Corp formations since 2003. We are a Registered Agent service that provides our clients with easy and effortless formations with a one-time startup fee of $495.00, no added state fees of any kind on formation.
We are a reputable agent who has been accredited with the BBB and maintained an A+ rating since 2005. You know you have to be pretty good to maintain that A+ status for 16 years!
We also have over 1,000 Five Star reviews on Trustpilot! We are, that good.
What makes us this great though, is you, of course! If it wasn't for you, we wouldn't have any client calls to answer and we would not have anyone to share our knowledge with! And that's the best part of this agent business.
Many other agents do not have the local or physical presence that we offer. With lower start-up and annual fees, these agents cannot afford the presence that we can, and cannot beat the reliability that we offer. You will always know that as long as the State of Wyoming is open, so are we. And if you file with us, you want to hire us later, because we are always here for you.
Annual maintenance will consist of the Wyoming State Annual Report for $62.00 and our Registered Agent fee of $135-$185.00. That is an annual maximum of $247 to maintain your Wyoming LLC or C-Corp. We also have a large inventory of aged shelf companies.